I'm linking up with Mrs. Jump's Class once again for Book Talk Tuesday!
I want to share one of the first books I read to my class (excluding all of those first day of school favorites :)), Squeak, Rumble, Whomp! Whomp! Whomp! written by Wynton Marsalis.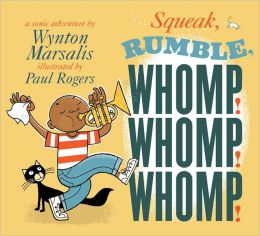 Squeak, Rumble, Whomp! Whomp! Whomp! is a book about the sounds heard through a busy neighborhood. From the sound of a door opening to the sound of trucks rumbling and the sound of music playing.

When I saw this book, I thought it would be perfect for teaching writing.
We always begin the year with writing a narrative about the first day of school. I like to get my kids started right away with Bold Beginnings--types of leads which make writing awesome! The lead, or Bold Beginning, I introduce to my kiddos is "Listen Up!"
I tell the kids we can start our writing with a sound, which will make our writing more interesting. Generally, they have no idea what this means. Who can blame them, they're six and seven. So I read the book and they hear and see the sounds the author is describing.
After reading the book, we discuss the sounds they heard in the story. We talk about how the author gets to decided how to spell the sounds and there is no right way. Then the kids get to practice! I give them this worksheet and let them make up some sounds.
After they get the hang of this, we write our class narrative, which begins with a "Listen Up!" beginning.The kids use "Listen Up!" all year long. As soon as I read their first sentences, I'm hooked!
Here are some student samples from their narrative writing:
Blop! Blop! I can hear the fish making bubbles.
Yay! Whoo hoo! I heard excited kids.
Boom! Boom! I hear my favorite band.
Please! Please! Please! I hear myself whining.