Linking up with Mrs. Jump's Class!
Armadilly Chili
is a great book! It's a Southwestern version of
The Little Red Hen
. And the illustrations are beautiful! My students even chose this as their favorite book in 2nd grade.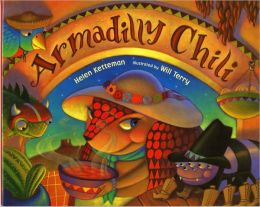 In the story, Miss Billie is making her famous chili. She asks her friend Tarantula Tex to help her out, but he's going dancing. Then she asks Mackie the blue bird if he can help, but he's going to see a movie. Finally, she asks Taffy the horned toad, but she's busy roller skating. Feeling the
Little Red Hen
vibe? So she decides to make it all by herself. As the chili is simmering, Tex stops by after dancing and asks for some. Miss Billie tells him to get lost. Then Mackie stops by and asks for some chili, but Miss Billie denies his request. Taffy also stops by for some chili, but none for her.
As Miss Billie sits down to enjoy her chili, she realizes something is missing . . .