So last week my students worked on adding details to simple sentences and to be more specific in their writing. The week before that, the kids learned about ideas and "juicy details."
Ideas
Juicy Details
Adding details
Be Specific
This week we took our knowledge of "being specific" and used a graphic organizer, called a funnel, to move from a broad topic to something more specific.
funnel
Broad to specific
I showed the students a "photo album" (PowerPoint) of our pretend trip to the zoo. It showed the San Diego Zoo, some animals, a giraffe, a woman feeding the giraffe, and a giraffe's tongue. So we took a very broad topic (a trip to the zoo) and made it much more specific (feeding a giraffe at the zoo). I tell the kids that finding one specific part of a trip, day, birthday. . .makes your writing more interesting.

Now that we've covered the important components of Ideas, I will read various mentor texts to the class so students can see how authors use the trait.


On Thursday, I read Enemy Pie by Derek Munson.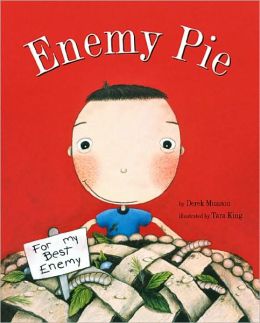 The story is about a little boy with an enemy. His dad comes up with a plan to get rid of his enemy, which is to make an enemy pie.
There's so much more to this story, but I was just getting to the point of the activity. It's a really cute story. I recommend it like I do every mentor text I suggest in the
Interactive Writing Notebook.
After reading the book, we discussed the
ideas
the author used is his story. The story gets kids' imaginations going thinking about the ingredients in an enemy pie. So, the activity I created gets kids using their
ideas
to come up with the ingredients in the pie.
Usually my students put gross things in their pies. For some reason these kids didn't. Hmmm.






Next week we will begin a narrative using everything we've learned. I will expect students to choose an idea, be specific in their writing, and add details to make writing more interesting. Now that they have some tools, it should be fun!